Apple Pay will soon ring you up at Starbucks, KFC and Chili's
19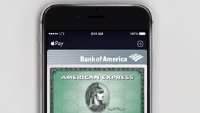 If you're looking to make your trip to Starbucks go smoother and faster, you soon will be able to take care of your caffeine fix by using Apple Pay. A pilot program will be launched this year inside Starbucks stores, according to Apple Vice President Jennifer Bailey. But man (and woman for that matter) does not live by coffee alone. And that is why next year, Apple Pay will be also be available to use in two popular restaurants.
KFC will be accepting Apple Pay some time in 2016, as will Chili's. The former is owned by Yum! Brands, while the latter is part of the restaurant portfolio owned by Brinker International. Using the mobile payment service should allow for lines to move quicker.
Apple says that Apple Pay has a 98% customer satisfaction rating although
one researcher says that the service handled just 1% of payment transactions
in the states. The tech titan grabs a percentage of the value of each transaction that is rung up using its mobile payment service. Apple Pay is going up against Android Pay, and Samsung Pay, as retail cash registers becomes a major battleground among smartphone manufacturers and OS developers. Usage is relatively low, but we are in the first inning of a nine inning game.
Apple Pay is currently offered in the U.S. and U.K., with Canadian and Chinese consumers expected to be next in line to have the service at their disposal.
source:
Reuters