Apple Music has both issues and potential, but will probably make you fall in love with music again
22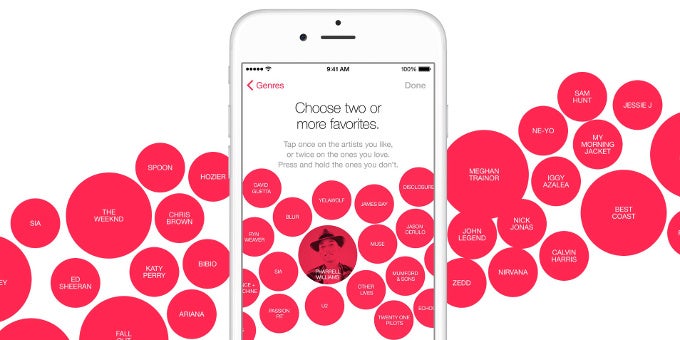 In case you've been living under a rock, Apple Music is already here and is making its baby steps in the music-streaming business. It's certainly aiming to shift the status quo and sett itself among the most popular music-streaming services out there; whether it will succeed is a whole different topic though. We've already told you everything you need to know about Apple Music, compared it with most of its adversaries, like Spotify, Pandora, Rdio, and last, but not least - Google Play Music.
Still, despite its pros, Apple Music also comes with a hefty amount of cons. It's been around for a few weeks now, and we've been using it on a daily basis ever since. It has more than 36 million tunes in its library, some of which are exclusive, and most importantly - it's available in more countries than its direct rivals.
Apple Music came along with iOS 8.4 and quickly got a few headlines, not only because it's Apple's newest service, but also due to the shady Taylor Swift controversy, which is believed by many as an elaborate marketing scheme, yet we digress. After the dust has settled, we decided to take a closer look at the music-streaming service based on our experience with it.
For You
Right off the bat, Apple Music greets you with an interface that is both reminiscent of and quite different from the one that is prevalent on the iTunes Store & the App Store.
The default view ("For You") features a large number of playlists and artists that are curated in accordance to your search history and music suggestions - the more songs, albums, or playlists you "heart", the more refined Apple Music's suggestions will be.
If you're an avid hip hop fan, for example, the "For You" tab will mostly feature playlists, artists, and albums that are most relevant to your taste in music, but these won't be domineering - a lot of other music genres will be occasionally making the rounds and Apple Music will be reminding you that Mariah Carey, Dire Straits, or Toby Keith are also in the music business.
After you tap on a certain item on the homepage, you will be greeted by the contents of the album or playlist in question; apart from playing you can get to the artist's dedicated Apple Music page by tapping on their name or explore the service's music suggestions at the bottom of the page you're currently browsing.
As far as the track playback screen is concerned, it's done in the most Apple-ish way possible - a large album art reigns upon the top half of the screen, while lower part is dominated by the music control buttons one would normally expect, as well as general information about the track. This screen in particular is not overwhelming with information, which is generally a good thing, but we can't say the same for the rest of Apple Music.
Is this a successful affair? Yes, mostly. To be honest, Apple Music's suggestions are a pretty good way of discovering new music or stumbling upon a band or a certain track that you've long forgotten about.
New
One of the more cramped up parts of Apple Music is the "New" view, which is pretty overwhelming with information. Check out for yourselves: apart from the currently most-played tracks for a given genre, it also houses the playlists hub, which is full to the brim with different music sets based on a given activity. And Apple Music has a lot of these.
Working out? No problemo! Cooking? For sure! Breaking up with someone? Well, Apple Music's got you covered even in this heart-breaking, gut-wrenching scenario!
It's safe to say that you'll hardly ever run out of playlists to listen to. After the populous playlists hub, you're finally presented with the new tracks you've been looking for the whole time — after all, isn't this the reason you navigated to the "New" tab in the first place?
Additionally, both music tracks and music videos are mixed here, further making the "New" tab slightly messy.
To add up to the unintuitiveness, this section of Apple Music also comes with a scrollable panel at the top that is featuring items related to the music genre you've chosen in the first place.
All in all, it's nifty, but unless you deliberately swipe sideways, you won't be promoted that you can actually do so - there is no visual indicator whatsoever that is hinting at this functionality's existence! If you stay on this screen long enough, you will actually notice that said items change on their own, suggesting that you can also manually do so.
It is but a minor gripe, but is definitely a sign that the interface needs a serious polishing.
Radio & Connect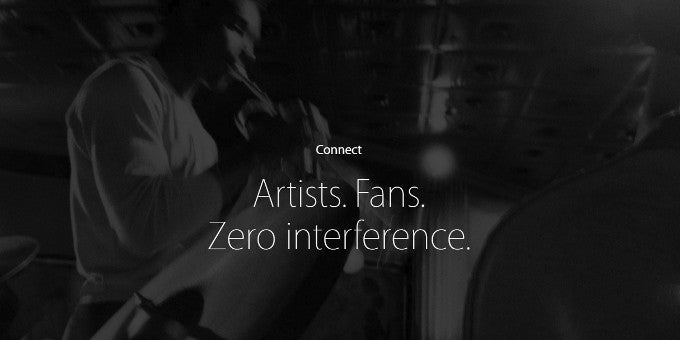 Debuting alongside Apple Music is Beats 1, a global 24/7 radio that is touted as being curated by expert DJs (Zane Lowe and colleagues) and broadcasting various music playlists.
Apart from the flagship radio station, you can also listen to various other stations that are actually pre-curated playlists that allow you to skip songs. One of the best things about Beats 1 is that it will remain free forever, even if you don't subscribe for Apple Music itself. Frankly said, there's hardly anything not to like about Beats 1.
Being one of the features that were detailed during the initial announcement of Apple Music on WWDC, Connect is certainly helping it differentiate from the rest of its rivals.
Basically, it's a news feed that you can interact it in the most basic ways possible, i.e. like, comment, and share the separate posts.
Connect will show you the news feeds of the musicians you're following (these can be edited from your profile), but we noticed that Apple Music tends to randomly sling posts here and there regarding some popular artists we hadn't previously followed. Not a dealbreaker, but might be of minor nuisance for some.
Playlists & My Music
"Playlists? But I don't have such a tab in my Apple Music, PhoneArena!"
Normally, it won't appear in your bottom-most bar unless you explicitly disable Connect in General > Restrictions. If you're indifferent to Apple Music's social elements, it's advisable to turn it off, as a dedicated Playlists tab will be way more helpful as a whole.
Inside, you get to view all of your playlists — apart from a bunch of pre-loaded ones, like "Recently Played", "Recently Added", etc, the ones you've created on your own and the ones you've saved are also displayed here. The Playlists menu is one of the more organized ones and navigating through the different playlists is generally a pleasant affair. As an added bonus, you can force Apple Music to only display the music tracks and playlists you've saved to your device for offline listening, which is a nifty functionality.
As one might expect, you can edit and delete each and every playlist, even the pre-loaded ones. The last major interface element of Apple Music is "My Music". Just like Playlists, it shows you all of the tracks you've saved, but broken down to artists, albums, songs, genres, compilations, and several other categories. We had no gripes with this interface section, as it does its job the way it should be.
What we liked
If you jump on the Apple Music train, one of the things that will most likely happen right away is your increased exposition to new tunes. It's definitely aimed at the Average Joe, the casual music listener who is merely brushing the tip of the iceberg. As such, Apple Music performs flawlessly - spend an afternoon with it and you will most certainly discover your new favorite artist or music track.

In 9 out of 10 times, it will suggest completely relevant track to follow up the one you're currently listening to ; it also nails its job at recommending bands and albums. Overall, the music suggestions functionality pleasantly surprised us and is among our favorite aspects of Apple's music-streaming service.
Another thing that's hard not to like is the service's integration within iOS and Siri in particular. We have to give it to Apple that Music feels like an integral part of its mobile platform, and although the level of integration can be always improved, it feels quite seamlessly paired with iOS the way it is. Additionally, you can ask Siri to play you the number 1 hit from a decade ago - how cool is that?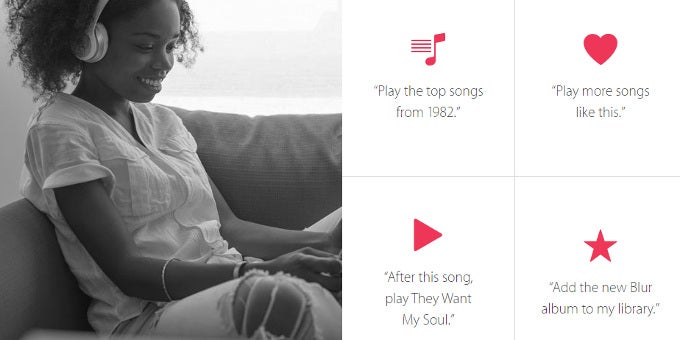 What we didn't like
Indeed, certain aspects of the interface are a bit clunky, overwhelming, and need to get straightened out in accordance to the "Apple way", but generally speaking, getting used to the app and walking through its features will take you no more than 15-20 minutes. Additionally, due to the sheer amount of content that the app needs to cope with, it's somewhat understandable that it might not be as streamlined and intuitive as we'd like. That's a price we're willing to pay though.
The shortcomings of the interface and its occasionally flawed logic are also not among our favorite aspects of Apple Music. For example, you are totally unable to add a song to a playlist unless you save the song in question to your own music, which is a bit odd. What's more, Apple Music is currently full to the brim with bugs. Apart from relaunching the app completely at random from time to time (with the reasons being unbeknownst to us), Apple Music also tends to randomly pause or stop the music playback.
Another infuriating aspect of Apple Music is that it certainly takes its toll on your system's resources. Imagine the following scenario: you're actively digging down in its music library, browsing for a fresh new tune, and enjoying your Facebook feed in the meantime, quickly switching between the two apps and changing songs via Control Center's music controls from time to time - well, this range of activities can potentially slow down your iPhone down to a complete halt for a few seconds or cause a noticeable lag and frame drop.
Conclusion
Whether you are a melomaniac or seldom enjoying music, Apple Music certainly has the potential to grab your attention. Currently, there's hardly any reason preventing you from enjoying the free trial of the music-streaming service — after all, it's free for the first three months! We can't say that it's the best music-streaming service around, but it's certainly not much worse than its rivals. Certainly, it has some small issues, but it is undeniable that it has many strengths and a lot of potential. Here's to hoping that the latter will be developed to the fullest.