Apple HomePod: 10+ things you should know before you buy it
12
The Apple HomePod might be late to the smart speaker game, coming years after Amazon's Echo and Google Home lineup of speakers, but Apple claims that it has been developing the HomePod for some 6 years and that it has an "amazing" sound quality.
The HomePod is nearly double the size of Google Home and it is much heavier, but it is not a large speaker by any means, measuring just 6.8 inches high and 5.6 inches wide. The HomePod has a touch area at the top (it's not a screen) and it is powered by Siri, which is often criticized for doing less than rival voice assistants.
We have had the HomePod for a while, we have listened and talked to it (you can
read our full Apple HomePod review here
), and now, it's time to sum up the things we have learned and that you should know before you buy one for your home.
#1: It will not pair with an Android phone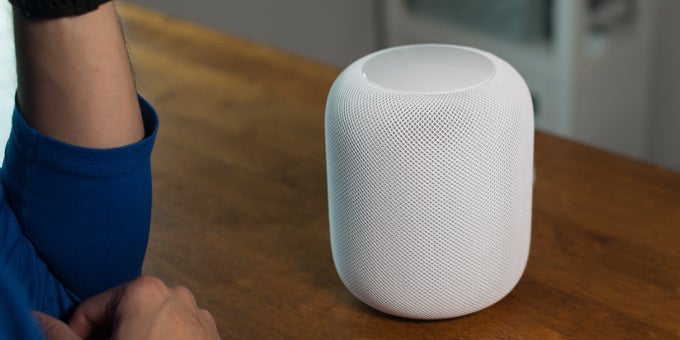 This is probably the biggest limitation of the Apple HomePod and the one you should absolutely know about. You simply cannot pair the HomePod with an Android device, so if you are an Android user, the HomePod is just not made for you. Just like with the Apple Watch, the HomePod locks you into a closed ecosystem and this brings both some advantages, but also many disadvantages.
However, we were also surprised that the HomePod will not pair with a Macbook. It requires an iOS devices like an iPhone or an iPad for the initial pairing, and only then you can use it with a Mac. The HomePod uses AirPlay to connect to devices.
#2: It CAN AirPlay music from Spotify and other services
You might have heard various things about HomePod and Spotify support.
The truth is that you can use Spotify on the HomePod via AirPlay. What you cannot do is use Siri voice commands with Spotify or other services like Pandora, Google Play Music, or Sirius XM. What this means is that you cannot tell the HomePod: "Hey Siri, Play X music on Spotify". Voice controls only work with Apple Music, the company's own streaming service. This is an important limitation that you should know about and one that might make you re-think whether you should get the HomePod if you happen to be a Spotify or Pandora subscriber.
Keep in mind that while you cannot ask the HomePod to play Spotify music, you can AirPlay music from Spotify and the afore-mentioned services and once the music is playing you actually can use voice controls, but those are limited to "Play/Pause", "Previous/Next song", and "Volume up/down" requests.
#3: No built-in equalizer, but you can use a workaround
Music enthusiasts will be happy to find out that you can actually fine tune how music sounds on the HomePod via an equalizer, but it's a bit of a hidden work-around rather than a native equalizer and it works best when you tweak it on a Mac.
To access the equalizer on a Mac, open iTunes, connect to the HomePod via the AirPlay icon and start playing music. Still in iTunes, open Window > Equalizer, and voila. Here, you can select a preset or manually adjust individual frequencies. The HomePod will react with an adjusted sound output. You can also save your custom made preset to use later on.
#4: Siri on HomePod does not recognize different voices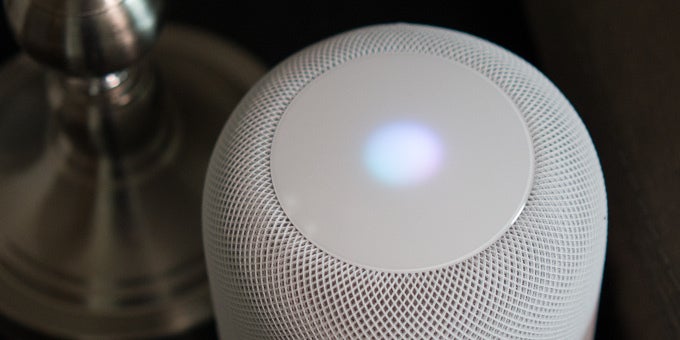 While the Siri on the iPhone can be trained to recognize your voice (this is the reason Siri on your iPhone does not - or should not - start when somebody else says Hey Siri), there is - weirdly - no individual voice recognition on the HomePod.
For a smart speaker that will be in a home where many people live and you can have guests, this becomes a security problem as well.
In real life, this means that if you have guests around, everyone can just ask your speaker to read latest messages for the iPhone account that the HomePod is connected to and the HomePod will do so without hesitating. This also means that your kids or a friend who's around can also text anyone from your contacts via the HomePod.
Note that you can turn off this in settings. It is the Personal Requests option, but it having to turn it off when you have guests and then turn it back on, seems like a weird thing to have to deal with.
#5: HomePod needs to stay on a flat, firm surface to sound its best
The HomePod is a compact speaker, but it is packed with technology and it has 7 "tweeter" speakers on the bottom and 1 large, four-inch woofer at the top.
In order to get the best sound quality out of the HomePod, it is best to keep it on a flat, firm surface. This way all the speakers can work properly. Apart from that, you do not need to worry about where you position the speaker in your home: it will automatically adjust its sound using a very complicated system that we explain in another article.
#6: You cannot reliably use it as a TV speaker
If you choose to use your phone in the living room, or in any other room where there is a TV, it is only logical to have the HomePod work as your home sound system.
Unfortunately, this is not possible. The HomePod will not connect to any third-party gadgets or game consoles that you may have. It only works with Apple TV, but even with it, the connection drops whenever you play music and you need to reset it every time. This is one glaring omission that we wish Apple improves in the future.
#7: The cable is not meant to be detached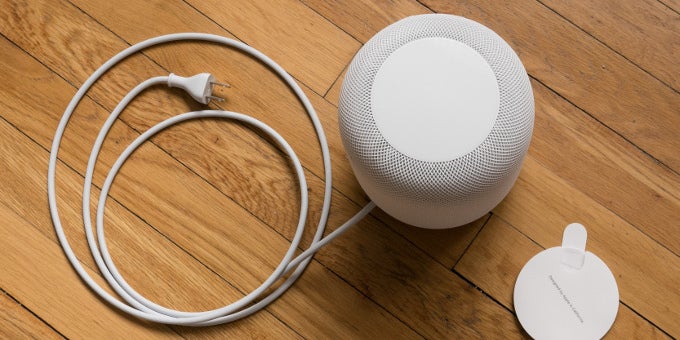 The HomePod is built very tightly, with a mesh outer layer (cats will love it) and one of the nicest fabric cables that we have seen. There is no big power brick to take extra space either.
But can you detach the cable from the HomePod itself and what can you do if your dog chews on it and it no longer works?
Some users have already tried pulling the cable out and when you use a lot of force, you can remove the cable, however, Apple says that the cable is not meant to be detached and warns against doing that. Moreover, Apple also warns that once a cable is detached, it does not recommend plugging it back in as damage may have occurred inside the speaker.
In case a dog chews on the cable or it no longer works for one reason or another, Apple does not sell replacement cables. You would need to return the HomePod to an Apple Service Center where it will be repaired for a flat price of $29.
#8: There are no screws, the HomePod is not meant to be opened by the user
The HomePod is built like a typical Apple product, meaning that it is not meant to be open and that it is not easy to take it apart and repair.
There are no screws on the HomePod and you need to use power tools to take it apart, if you are curious to see what's inside and you are willing to sacrifice your $350 smart speaker.
#9: There is no line-in input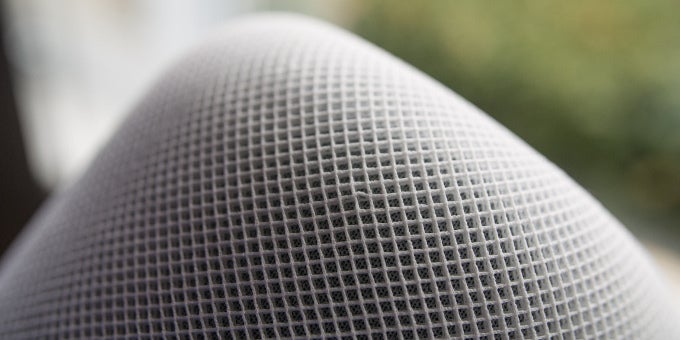 The HomePod is a wireless speaker and it has no physical ports (no line-in AUX inputs). With no line-in input, there is no way to plug in the HomePod into another device to use it as a traditional speaker. Yes, once again, this speaker is meant to be used with an Apple device and the company has gone the extra mile to ensure you do not use it with other products.
#10: You cannot pair two HomePods to play in sync yet
We have seen many other speaker offer smart pairing options that would allow you to have two of those speakers working in sync to provide even better and even louder sound. Unfortunately, this feature is not yet available for the HomePod and you cannot have two HomePods synced together to play the same music. However, this is one features that should be coming with AirPlay 2, which should be released later this year.
#11: There are still latency issues when you use HomePod via AirPlay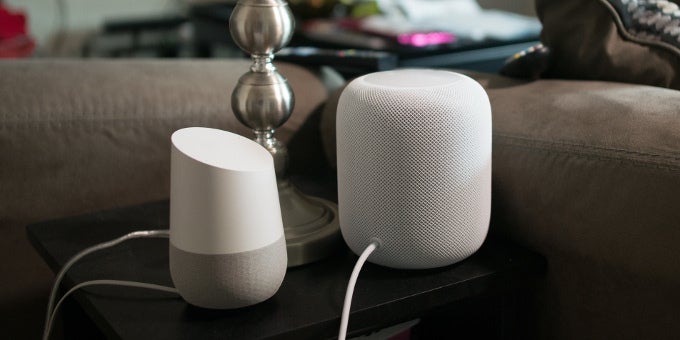 Finally, you should know that while the HomePod reacts nearly instantly when you speak to it, there is a slight delay (longer latency of response) when you use it via AirPlay.
This is noticeable when you listen to podcasts or music via AirPlay as there is a slight delay between the moment you press a button and what is played on the speaker. We are hopeful that Apple will be able to get this fixed later this year with the AirPlay 2 update.