Apple CEO Tim Cook turns down Restricted Stock Unit dividend worth over $75 million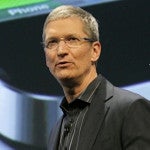 Remember when Apple was deciding what to do with their Scrooge McDuckian bundle of cash? You might remember that they
decided to pay a quarterly dividend of $2.65 per share
. That, of course, will benefit all of those public stockholders whom own the shares (along with those multi-billion dollar Hedge Funds sitting on the stock). Thanks to a decision from Apple's board, the company decided that it would
pay the same $2.65 dividend to holders of its Restricted Stock Units
. This decision appears to have been done quietly and with good reason. Most owners of the Restricted Stock Units are employees whose holdings vest over a period of time in order to give the them an incentive to stay with the company.
forgo receiving the $2.65 a share on his 1.15 million RSU's over the vesting period
. Cook received 1 million of these highly valuable units back in 2011
when he was named CEO
. At the time, the value of that bonus was $383 million. Half of the units vest in five years with the remaining half vesting in ten years.
No one suggests that we need to throw a bake sale for Mr. Cook. After all, earlier this month the executive sold 37,500 Restricted Stock Units that he received two years ago when named interim CEO, and received $11.1 million in the transaction. Still,
the amount of money that he is turning down is a whopping $75 million
. While we don't know the exact reason for his decision, perhaps he too feels that Apple's decision to award the common stock dividend to holder's of the Restricted Stock Units is merely making the fat cats fatter.
"On May 24, 2012, the Compensation Committee (the "Committee") of the Board of Directors of Apple Inc. (the "Company") approved amendments to each outstanding and unvested restricted stock unit award granted by the Company to its employees (other than Timothy D. Cook, the Company's Chief Executive Officer). The amendments provide that if the Company pays an ordinary cash dividend on its common stock, each award will be credited with an amount equal to the per-share cash dividend paid by the Company, multiplied by the total number of restricted stock units subject to the award that are outstanding immediately prior to the record date for such dividend. The amounts that are credited to each award are referred to as "dividend equivalents." Any dividend equivalents credited to an award will be subject to the same vesting,
payment
and other terms and conditions as the unvested restricted stock units to which the dividend equivalents relate. Depending on the domicile of the employee, accumulated dividend equivalents will either be paid in cash or used to offset employee taxes due upon vesting of the restricted stock units.
The Committee determined these amendments were appropriate in light of the Company's announcement on March 19, 2012 that it intends to commence paying ordinary cash dividends of $2.65 per share to its shareholders on a quarterly basis sometime during the fourth quarter of its 2012 fiscal year. As restricted stock units are not outstanding shares of common stock and thus would not otherwise be entitled to participate in such dividends, the crediting of dividend equivalents is intended to preserve the equity-based incentives intended by the Company when the awards were granted and to treat the award holders consistently with shareholders.
At Mr. Cook's request, none of his restricted stock units will participate in dividend equivalents. Assuming a quarterly dividend of $2.65 per share over the vesting periods of his 1.125 million outstanding restricted stock units, Mr. Cook will forego approximately $75 million in dividend equivalent value."-from Apple's 8-K filing
source:
SEC
via
AppleInsider