Apple AirPods may feature proprietary "Bluetooth-like" wireless
23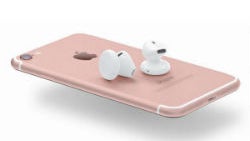 So, we've been wondering what Apple's plans are for the tech to replace the standard 3.5mm headphone jack that is expected to be removed from the newest iPhone being announced tomorrow. For a wired option, the assumption is Lightning headphones which could allow better audio because of the power supplied (though does risk DRM issues), or a wireless option.
There have been rumors before that Apple might release its own wireless earbuds and Apple has filed a trademark on the name "
AirPods
" for that accessory, but now long-time Apple analyst Ming-Chi Kuo of KGI Securities is claiming that those wireless AirPods will not use standard Bluetooth. Instead, Kuo claims Apple will use a proprietary "Bluetooth-like" low-powered wireless communication spec and position the Apple wireless earbuds as the high-end option, while Beats will be the mid-tier option.
The idea that Apple would use a proprietary communication spec rather than the Bluetooth standard wouldn't be much of a surprise, because Apple has had a historical aversion to industry-wide standards. But, Kuo says Apple would also use their proprietary standard for smart home accessory communication and not just accessories like wireless earbuds.
Now, given that Apple would be positioning the AirPods as the high-end option, Kuo notes that it is very unlikely that they would be packaged with the new iPhone
despite the latest rumors
. So don't expect that tomorrow.