Apple's 2018 iPhone prices tipped to be the same as the 2017 crop at launch, so, relax, everyone
10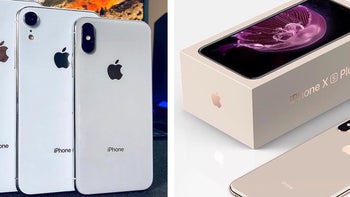 There have been pricing rumors swirling around lately, pegging Apple's new iPhones as the
most expensive bunch
it has ever announced. The latest in that installment is a Goldman Sachs analyst who said that the cheapest iPhone Xc or whatever it gets called, will
start from $849
, and might only get to $799 if Apple has found wiggle room to cut costs before launch. In his memo to clients he discloses that Goldman has been wrong about Apple before, so his forecast is just that - predictions.
If anything, the
iPhone X
showed Apple that the $999 barrier is
a tough nut to crack
even for the most recognized brand name in the industry which enjoys somewhat of a cult following. A leakster out of Germany, who's had several exclusive scoops based on his carrier sources, now reports that the new 2018 iPhone will actually follow the prices of their predecessors at launch pretty closely, with the exception of the 6.5-inch
Xs Plus
/Max.
He claims that the affordable iPhone Xc with LCD display will start at EUR799, or as much as the iPhone 8 started in Europe, while the 5.8" Xs will see its price shaved by a Benjamin compared to its predecessor. The largest iPhone ever, though, will be starting at EUR 1149, and this information has been confirmed for the tipster by two separate sources. If you want the higher storage tier, with 256GB, you'd have to shell out EUR 170 more, but what will Apple charge for the eventual 512 GB models, is anyone's guess at this point.
Coincidentally, these are exactly the prices that the iPhone 8, 8 Plus and X command now in Germany. Extrapolating from this eventual pricing in Europe, we can reach US tags of $749 for the 6.1" LCD iPhone, $899 for the iPhone Xs, and $1049 for the Xs Plus, Max, or whatever Apple calls it. The 256GB versions should command $150 more, and we shudder to think what the 512GB models will go for.