Apple 10.2-Inch iPad (2021) on sale at BestBuy
We may earn a commission if you make a purchase from the links on this page.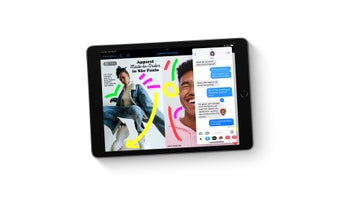 Over the past couple of years,
Apple
has really stepped up its iPad game. Desktop-class chipsets, mini-LED displays and a plethora of upgrades have made the iPad by far the most exceptional tablet on the market hardware-wise.
Nevertheless, sometimes you just need the bare minimum - an iPad to give to your toddler, or a glorified eReader with a coloured screen. In cases like these, Apple's old 10.2" iPad from 2021 is the perfect choice. Luckily, you can now buy the vanilla
iPad (2021)
for just 249.99 from BestBuy.
You will be getting the entry-level model, which comes with 64 GB of internal storage and only Wi-Fi connectivity. The discount applies to both color options, so you can choose between Space Gray and Silver. You can also get the beefier 256GB version, which is also on sale.
You will not be getting the flashy new design that Apple introduced last year with the
iPad (2022)
, but, then again, do you really need it? The older generation might look dated, but it is still powered by a rather speedy A13 chip.
The device runs iPadOS 15 out of the box, and supports the latest version of iPadOS from last year. Furthermore, this is still an Apple device, so, despite obviously being an entry-level option, the build quality is well-above average. As with any iPad you will be getting decent battery life and access to the best tablet apps on the market. There are also a couple of caveats, however.
Firstly, unlike the higher-end iPads, this model is stuck with the Lightning port. This is above all a nuisance, but should be taken into account, especially when it comes to accessories. Speaking of which, the 2021 iPad is only compatible with the older, 1st generation Apple Pencil.
The iPad 2021 might be basic, but there is nothing wrong with that. After all, do you really need to spend $1000+ on a device you only surf the web with?