App offers commuters affected by BART strike a way to get to the office
2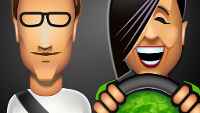 Barring a last second miracle agreement, the nation's fifth largest transit system covering the San Francisco Bay Area will most likely be
shut down
tomorrow by a strike affecting a huge number of commuters. Highways in the area are expected to be mobbed as those unable to catch a train to work turn to their car. But what if you don't own a car and need a way to get to work in the morning? Luckily, there is an app for that.
Avego, available for both iOS and Android users, helps users find commuters willing to share a seat in their car. This allows the driver to use the HOV lane, perhaps easing the congestion on the highway. And with user ratings, you can see which drivers are considered safer to ride with. Those willing to share a ride can recoup some of the cost of making the daily drive to the office.
Avego estimates that 400,000 people ride on BART daily and many of these people are going to need to get to work. In addition to its ride sharing app, Avego is making buses and vans available from Park & Ride lots. Don't let the BART strike cost you your job. Check out the Avego app and set up a ride into San Francisco and the Bay Area. Who knows? You might make a new friend.
source: Avego (
1
), (
2
), (
3
)