App allows total strangers to call and wake you up instead of an alarm clock
13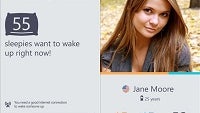 We all get phone calls from strangers occasionally, it is usually the result of wrong number being dialed, or a telemarketer that wants to sell you the latest and greatest service for the low-low-price of whatever.
What about having total strangers call you to cull you out of bed? On purpose? That is what Wakie does, connects you with total strangers to either be woken up by, or enlist you to wake them up with a phone call.
Wakie is the evolution of an app called Budist, which got its start a few years ago, developed by, and targeted mainly in Russia. So far, the developers say that more than a million users have placed over 30 million wake-up calls. Now, thanks to some fresh funding, Wakie has been developed to cater to anyone that wishes to be woken up in the United States, Canada, United Kingdom, Singapore, and Hong Kong.
For those that want to do the calling and waking up, you can sign up from anywhere. Wakie is currently available for Android and Windows Phone. The iOS app is currently in the approval process, so we expect to see it make its debut in the near future.
After you sign in with your phone number, Wakie then places you in a group of those that want to be woken up, or a group for people that want to do the waking. The app even tries to connect you with someone of the opposite sex. The calls are automatically timed to last one minute, so there is not much chance of this becoming a dating game, rather, it should be just enough time for the waking person to be somewhat coherent.
Phone numbers are kept private, with the app initiating and terminating the calls. It is just like an old-school hotel wake up call, but instead real people are coaxing you to get up and get going. You can check the app and hit the "wake someone up" button if you are in the mood to be of service. If there is no one available to wake you, the app will generate an automated call. Wakees can rate the wakers too. It all sounds like good fun, yet, the potential creep factor is inescapable.
If you choose to give Wakie try, let us know how your wake-up experience is.
Download for:
Android
|
Windows Phone
sources:
The Next Web
via
Gizmodo