Another video shows the Nokia Lumia 800 surviving through some impromptu torture tests
6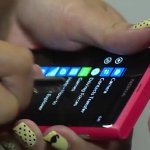 As we've seen on numerous occasions, the
Nokia Lumia 800
has proven itself to be one tough and well-constructed smartphone that can live through most of the normal wear and tear we normally put our phones through.
We've heard about it
surviving through a two story plunge
and looking pretty after a
knife was used against its display
, but this time around, impromptu tests were performed with the camera on hand to document the entire thing. Showing off the sturdy nature of its
Gorilla Glass
, Joanne-Marie from SingTel (a mobile operator in Singapore) did her best to do as much damage to the handset by scratching its display using a key. Moreover, she did the unthinkable by sliding the handset's façade against the rough surface of a wall.
Is it cringe worthy? Of course, especially when we know that's a brand spanking new phone, but it's able to show very little damage – though, it's really hard to say considering we don't see any close ups. Finally, she asked a few different people to drop the handset on purpose, and with that, they happily obliged. With a thud after each fall, the handset is picked up, and of course, it's still working to the surprise of many people.
Naturally, it's be hard for the normal Joe to put their handset on the line to try out these torture tests, but hey, it goes to show the kind of solid construction that the Nokia Lumia 800 boasts.
via
The Nokia Blog