Another new extra-fast Snapdragon chip leaks - could it be on smartphones soon?
24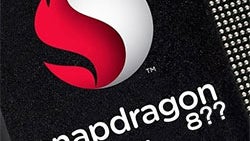 Earlier today we were talking about the super-fast smartphone processors that are about to follow in the wake of the current king of the jungle, Qualcomm's Snapdragon 820. While nothing beyond the 820 is official just yet, early evidence has already pointed to work on a few follow-ups, and in particular
we were looking at the Snapdragon 823
– a chip that doesn't stray too far from the 820 itself, basically operating at a slightly higher speed. Now we're hearing what might be another of these upcoming 820 siblings, as a leak suggests that Asus could be releasing an alternate version of its new Zenfone 3 Deluxe flagship running a Snapdragon 821 chip.
Stick with us for a moment, as this gets a little complicated: see, there's already been a rumor bouncing around that the
Asus ZenFone 3 Deluxe could arrive in certain markets running a Snapdragon 823
.
But now we're looking at some actual physical evidence claiming that the
ZenFone 3 Deluxe
will be available in versions running both the Snapdragon 820
and
a mysterious Snapdragon 821 – that's a chip we haven't really heard about before.
Based on what little evidence we can see here, the 821 sounds a lot like the 823 – just an 820 operating a little faster.
This leaves us with a few possibilities: could the chip we've been talking about as the Snapdragon 823 actually be called the 821, instead? Could Qualcomm be planning to release
both
chips, possible with slightly different capabilities? And as we're forced to acknowledge, could the ZenFone 3 Deluxe actually be getting the Snapdragon 823 as first reported, and all this mention of the 821 in these documents (as professional as they look), be some sort of typo?
There's an answer in there somewhere, but for the moment it remains just out of reach.
source:
GizmoChina
/
Blog of Mobile
(Translated) via
The Verge
Recommended Stories