Another day, another Samsung patent: meet Sammy's conceptual unlocking method
15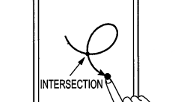 Samsung might be developing a device unlocking feature, similar to LG's Knock Code, as a recent patent application with USPTO suggests that the company is working on a touch-and-drag unlocking method. It is stated that users will be able to wake as well as unlock their devices by touching the display and drawing any figure with at least one intersection in it.
Yes, that's right! The patent description claims that a dedicated touch input controller in the device will monitor for any touch/drag input on the display even when the latter is off. This means that you wouldn't need to hit that power key when you want to wake up your smartphone or tablet.
This Samsung patent says that the shape, size, and orientation of the unlocking pattern that the user draws don't matter, provided it has at least one intersection. Additionally, you can predefine patterns with two, three, or more intersections, which can jump "to a user's desired function after releasing a lock mode ". For example, you can draw a figure with two intersections and the devie will wake up directly into, say, Viber or Hangouts.
It is also stated that common unlocking methods are "cumbersome" and usually predispose for lots of "undesired input errors". Samsung touts its conceptual unlocking method addresses all of these disadvantages and provides an user-friendly unlocking UI.
And do you remember
Samsung's patent for a force-sensing display, which is capable of distinguishing soft from hard touches, which we informed you about yesterday
? Well, imagine what would happen if the tech giant desides to combine both of these concepts into a rather innovative unlocking method, which comprises of touches with different force and intersectable unlocking patters!
What are your thoughts on the matter?
source:
USPTO
Recommended Stories