Samsung receives a patent for a force-sensitive touchscreen display
36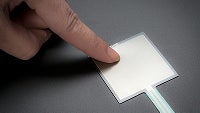 Samsung has just received a new patent for a "touch display apparatus sensing touch force". The South Korean manufacturer states that although such force-sensing touchscreens already exist, most of them require a separate force-sensitive sensor, which unnecessarily increases the production costs of the dispay.
Samsung's solution, however, suggests that this additional sensor can be omitted, as the company intends to implement a tiny force-sensing processor into the display itself. This processor includes an electrode resistor and a reference resistor. Both of them are connected to several very thin layers of piezoresistive materials, either graphene or carbon nanotube, which have different resistances. These layers are situated inside the display.
Once you press your finger against the display, the layers provide the miniature on-display chip with feedback about the duration of the touch input. Then, the tiny processor determines whether "the touch is a soft touch or a hard touch". According to Samsung, no additional processing chips are necessary.
Yet, no one can tell when or if Sammy will implement this technology into its mobile devices.
source:
USPTO