Another Windows Phone executive jumps ship to join Amazon's mobile division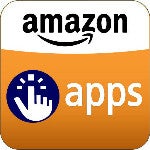 Hot on the heels of two separate rumors of an upcoming Amazon smartphone, it is now being reported that Robert Williams, Microsoft's Senior Director of Windows Phone business development, will be joining Amazon to become director of the Amazon App Store. This is the second high profile defection from Microsoft's Windows phone team to head to Amazon this year; back in February the head of Windows Phone Developer Experience, Brandon Watson, left to become head up the Kindle cross-platform team.

Neither executive has a job description that explicitly states they are working on an Amazon phone…but since it's an unannounced product category that isn't exactly a surprise either. Williams' new role as head of the App Store certainly would afford him opportunity to work on optimizing the user experience of finding and purchasing apps on any current and upcoming mobile hardware.

Microsoft has also restructured some of its Windows Phone leadership over the last year, so there's been a constant stream of changes inside the division. Whether that indicates larger problems, frustration with the lack of market success of WP7, or simply executives leaving to pursue other opportunities isn't clear, but what is clear is that Amazon is certainly reaping some rewards from the situation.



source: Windows Gadget News via The Verge