Microsoft shakes up Windows Phone management
30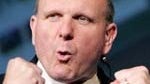 AllThingsD is reporting that
Windows Phone head Andy Lees is being moved to another position
. It's not exactly a demotion, as Lees will still be reporting directly to Microsoft CEO Steve Ballmer, but rather than head up the Windows Phone division he will be working on a "time-critical opportunity focused on driving maximum impact in 2012 with Windows Phone and Windows 8".
Terry Myerson, who has led the engineering side on Windows Phone, is going to take over most management duties in the division, although he apparently will not be officially named as Lees successor at this time. It's not clear whether this move is to shift Lees expertise to somewhere else, or is due to the disappointing sales of Widows Phone handsets to date.
Despite positive reviews, Windows Phone has gained very little market share
. In the last year Microsoft-based phones have actually
lost market share
, as users of the older Windows Mobile handsets moved to competing mobile platforms at a faster rate than people purchased WP7 phones.
Windows Phone was late to market, with Microsoft deciding it had to totally scrap Windows Mobile and start anew after the explosive growth of the Android and iOS ecosystems. With OEM partner Nokia
starting to ship WP7 phones
, 2012 may be a make or break year for Microsoft's mobile operating system. Whether this change in management can create new growth (or at least remove obstacles blocking it) remains to be seen.
source:
AllThingsD