Angry Birds Go! now available on Android, iOS, Windows Phone, and BlackBerry 10
14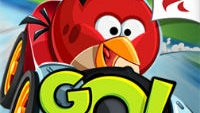 Rovio's latest game, Angry Birds Go!, is a bit of a departure for the developer in a few ways. It is moving away from the more puzzle focused aspects of its previous games - Angry Birds, Amazing Alex, and Bad Piggies - and moving into the kart racing genre. Go! is also the first 3D Rovio game, and it is pushing deeper into the freemium model of gaming, which could very well turn off gamers.
Go! offers many of the features that you would expect from a kart racer including a munch of playable characters - both birds and piggies - various tracks, power-ups, and upgrades for your racer. There are also multiple game modes to choose from, inlcuding Race, Time Boom, Fruit Splat, Champion Chase and Mega Match. Unfortunately, most of these options require quite a lot of grinding, or paying real money on in-app purchases to unlock.
The game starts you off with just one racer and one kart, and the rest need to be unlocked. Many can be unlocked if you have the patience, but some of the best karts cannot be bought with in-game currency, and can only be unlocked by spending real-world money, which could end up costing you as much as $50. As we mentioned before, a hindrance to the grinding is that your racer has an energy bar that needs to recharge between races, meaning either it takes you even longer to accumulate the in-game currency you want, or you are forced to pay cash to refill your energy bar and keep playing. And, if all that weren't enough, the game is also riddled with ads.
Despite all of these issues, the early reviews of the game are overwhelmingly positive. We'll have to see if that changes as gamers get deeper into the game. Angry Birds Go! is available as free-to-play on all major smartphone platforms - Android, iOS, Windows Phone, and BlackBerry 10.