Andy Rubin's Essential phone runs Android, according to Eric Schmidt
8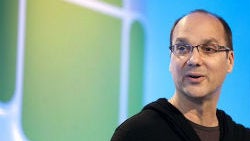 To be fair, we're not sure that anyone on Earth expected that the first smartphone from Andy Rubin's new venture would be anything but Android, but now we do have confirmation. Andy Rubin created the Android OS (not to mention the original Sidekick!) but eventually Rubin left Google because he wanted new adventures. After some time working on robots, Rubin's new project is a smartphone and that phone will run Android.
Google's Eric Schmidt tweeted the confirmation that Rubin's Essential phone will run Android while linking to Rubin's tweet that teased the
near bezel-less phone
that he has in the works. As we noted, there was little surprise in finding out that the Essential phone will run Android, but confirmation from Schmidt himself would seem to imply that the phone will include the Google Play Store and Google services. There had been some worry that Rubin might fork Android, but it looks like it will be a proper Google-filled Android.
The question does remain whether Rubin's team will be skinning Android or how much modification will be done. One would assume that as the previous head of Android, Rubin would want to ensure fast updates to his first piece of hardware, but at the same time we have to assume that Rubin wants to provide a new experience beyond what stock Android would offer on nice hardware.
The tweets from Rubin and Schmidt make it sound like the phone will be announced soon enough, so we may not have to wait too long to get answers to these questions though.