Android will just call screensavers what they are, as Daydream name moves to VR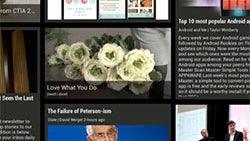 Two days back,
Google shared its plan for next-gen virtual reality on smartphones
. Two years after introducing Google Cardboard at I/O 2014, this year's conference brought us news of Daydream, a new framework for Android VR that involves changes on the hardware, viewer, and software layers. It all sounded promising … but what about that name? While a pretty apt title for a VR project (as users escape into virtual worlds as easily as they might get swept away in a daydream), attentive Android fans will be experiencing a twinge of déjà vu.
"Doesn't Android already have Daydream?" Well, yes it does. Or rather, did.
Nearly four years ago, when we were first getting a taste of Android 4.2 Jelly Bean,
Google introduced its original Daydream feature
. The mode allowed users to set up persistent screens that would appear when their device was docked or charging, displaying their choice of a clock, a stream of news from Google Currents, idly shifting colors, or even a slideshow of photos.
If that sounds a lot like an Android screensaver – hey, you're not wrong.
Well, wouldn't you know it, but in the latest Android N Developer Preview, Google is finally just calling the old Daydream what it is, renaming the mode to "Screen saver."
Considering that the old Daydream was never a very high-profile feature to begin with, and it hasn't really gained anything in the way of traction over the years, we're guessing that this change is going to go through without much in the way of protest.
source:
Android Police