Android was on 75% of all smartphones shipped in Q1, crushes competition
59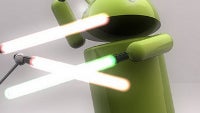 We have long ago started speaking about a duopoly in the mobile world as Apple started it all with the iPhone, and then with the quick rise of Android we got two operating system that became synonymous to what a smartphone is. And while Apple is still reaping most of the profits in smartphones (Samsung is catching up, though), when it comes to volume it's nothing more than a mere runner-up.
Android was on 75% on all shipped devices in the first quarter of 2013, up from a market share of 59.1% in the same period last year. Apple on the other hand lost a lot of its market share dropping from 23% in Q1 2012 to merely 17.3% in the first trimester this year.
Together the two platforms held more than 92% of the whole market.
Good news for the third ecosystem wannabe, Microsoft's Windows Phone, is that according to IDC data it actually outgrew BlackBerry for the first time. This contradicts earlier release data from Gartner, though, so one thing is clear - the difference between the two is far from huge.
Windows Phone has a 3.2% share while BlackBerry holds 2.9% of the market.
"Android and iOS accounted for more than the lion's share of smartphones in the first quarter, but a closer examination of the other platforms reveals turnaround and demand for alternatives,"
IDC mobile phone research manager Ramon Llamas said.
"Windows Phone has benefited from Nokia's participation, and BlackBerry's new BB10 devices have already hit a million units shipped in its first quarter of availability."

source:
IDC
Recommended Stories