Android was 64% of global smartphone sales in Q1
19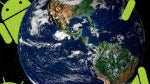 Android is everywhere. That statement doesn't really surprise anyone, but the specific numbers have a lot to say. Earlier today, we shared the smartphone sales numbers released by Kantar Worldpanel Comtech, and now we have the global numbers from Kantar as well. While the US had the
Android/iOS race fairly close
, globally Android is well ahead with 64% of smartphone sales in Q1 of 2013.
Kantar tracked smartphone sales for Q1 and also ran surveys in nine markets: Australia, China, France, Germany, Italy, Japan, Spain, UK and the U.S. According to the results, Android made up 64.2% of smartphone sales for Q1. In most regions, Android made up around 60-80% of sales with most iOS numbers ranging from around 15-25%. The outliers were: Spain, where Android held an insane 93% of sales, the US, and Japan. In the US, Android had 49.3% compared to iOS at 43.7%. And, Japan was the only region where iOS held the majority with 49.2% compared to Android's 45.8%.
BlackBerry, Symbian, and "other" platforms all saw across the board drops, but Windows Phone showed respectable growth numbers. Windows Phone gained market share in most regions, and grew faster than iOS in the UK, France, and Italy. It's slow going, but Microsoft is probably happy with a continued upward trend.