Android version of Skyfire downloaded over 1 million times from Android Market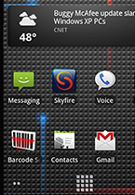 Not every Android phone has Android 2.2 running the show. For those handsets stuck on Android
2.1
or lower, the Skyfire browser is a great application to install because of its ability to play Flash videos. Many of those using a smartphone with Google's open source OS agree, because so far the browser has been downloaded over 1 million times from the Android Market, placing it in the top .02% of all products in the Market.
Additionally, Skyfire can now be installed on some of the newly launched Android phones like the Epic 4G, Samsung Galaxy S, the DROID brothers (X and 2), HTC Droid Incredible and EVO 4G. And while the browser really struts its stuff on units needing a way to view Flash videos, the software will still work on devices running Android 2.2.
Thanks to the cloud technology used by the browser, video data consumption is reduced by 75% on Skyfire which makes loading a site faster and at the same time, possibly saving the user some money. The browser features a toolbar called SkyBar which not only allows you to watch previously unavailable video content, but also gives you updated information on the topics that you browse and makes it easier to share content with your social networks.
To obtain the latest build of the Skyfire browser for Android, click on this
link
, or head over to the Android Market.
source:
DailyMobile