Android users can now select five new themes for SwiftKey inspired by Sony's "Pixels" movie
3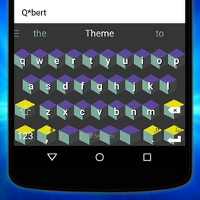 Sony's new "Pixels" movie premieres a week from today. The film is about aliens from another planet who mistake video about 1980's video games sent in a time capsule, as a declaration of war. So the aliens try to destroy us with huge 3D representations of Pac Man, Q*bert, Donkey Kong and other popular arcade games from that era. The human stars of the movie include Adam Sandler, Kevin James and Josh Gad.
So what does this have to do with your Android device? It's simple. Third party QWERTY app SwiftKey is offering five new themes for Android subscribers, all based on the film. The themes can be downloaded for free from the SwiftKey Store right now.
The themes are offered individually or as a pack. You can have Donkey Kong, Pac-Man, Q*bert, Centipede and Space Invader on your SwiftKey QWERTY, bringing back memories of the good old days.
Check out examples of these new themes by clicking on the slideshow below.
You can download SwiftKey for Android as a free download from the Google Play Store by clicking
here
source: SwiftKey