Android tablet with Intel Medfield processor poses for the camera
3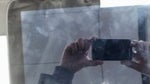 The device appears to be a developer tablet that someone managed to purchase, presumably without knowing what he was actually buying. Interestingly, that same guy is said to have paid the ridiculous price of $50 for it. There are no photos of the device actually up and running, but we hear that it runs Android 3.x Honeycomb and that its display measures 10.1 inches in diagonal. Here is what the tipster also says:
"The build of the tablet is actually really great! It doesn't feel cheap at all – it's thin but it has a nice weight to it which doesn't make it feel cheap. It has the power button on the left top of the tablet, with the volume rockers to the right of the power button, and the headphone jack is on the left side of the tablet. To the right of the table is the slot for microSD card and at the bottom of the tablet are three connections – one for the weird power, Micro-USB and a Mini-HDMI connection. The screen retains all the fingerprints so I'm guessing the glass doesn't have its final finish, thats why it gets dirty so easily."
So, it seems like the device does not support USB charging, given the fact that it has a dedicated port for that. Further inspection of the images shows that it has both a front-facing and a rear camera, the latter accompanied by an LED flash, and supports NFC.
And that is about all that we know so far. Whether the tablet will ever be available for purchase is still a mystery. However, we hope that CES 2012 will shed some light on the matter.