Android smartphones & the iPhone are now enabled for Google Instant Search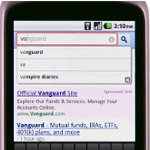 Most people are now quite familiar with the Instant Search feature found when using Google's web site on their desktop computer, but now it's going to make an appearance in the mobile space as well.
In fact, both Android powered smartphones and the iPhone are now enabled to take advantage of this neat feature that'll provide relevant suggestions as you search for something using Google.com. Available on iOS 4 and Android 2.2 devices, there will now be a "Turn on" link directly below the search bar which will essentially allow you to keep the feature off or on. In order to experience the best performance, it's recommended that you have either Wi-Fi or 3G connectivity.
Steve Kanefsky, a Google software engineer says, "With Google Instant on mobile, we're pushing the limits of mobile browsers and wireless networks. You will probably notice a big improvement in speed when you search thanks to a new AJAX and HTML5 implementation for mobile that dynamically updates the page with new results and eliminates the need to load a new page for each query."
source:
Google Mobile Blog
via
Mobileburn