Android smartphone app revenue could double this year to $6.8B
29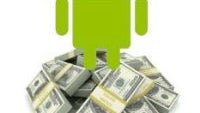 We've seen a couple of different
app trackers
saying that the Google Play Store has been
growing at a faster clip
than Apple's App Store, and a new study by ABI Research says that growth is not showing any signs of stopping. Rather, it could speed up a bit. ABI is saying that Android's app revenue for smartphones alone could double this year and reach $6.8 billion.
For comparison's sake, that would still leave Android at about 60% of the revenue of iOS on the smartphone side of things. ABI doesn't mention how tablets factor in, but it seems reasonable that tablet revenue could bump Apple up a bit and bring us back to the stat that we've seen before, which is that Google Play makes about half the revenue (not including ads) as Apple's App Store, but Android continues to gain ground. Within the next 12 months, Google Play is expected to rise to about 66% of Apple's app revenue.
ABI Research senior analyst Josh Flood went on to say that "This year, Android smartphones will ship by a factor of more than three-to-one to iPhones"; and, that lead in sales will have an impact on app revenue, albeit a smaller impact than you might expect from such a large sales gap. But, Android is expected to grow even more considering Google's expertise in advertising.