Android powered Amplify Tablet is made for use by students and teachers
2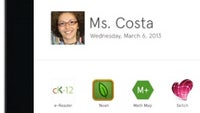 It has been nearly ten months since News Corp announced Amplify – its rebranded educational branch. Today, we're being given a first look at what it has been working on all along. Say hello to the Amplify Tablet – an Android device tailored specifically for use in schools.
What makes the slate stand out is that it comes loaded with software meant to simplify and streamline the learning and teaching processes. Using the tools offered by the Amplify Tablet, teachers can take attendance, send assignments to their students, even check what their students are doing on their tablets at a given time and block specific apps if necessary. Lessons can be customized by adding materials from the web in addition to the content that's already present on the device.
Students, on the other hand, are presented with useful apps that help them research a wide range of subjects and acquire information needed for their school projects. They can also provide feedback instantly to their teachers, thus letting them know how well they have understood each lesson. In addition, the software can give reminders for upcoming quizzes or deadlines and will let the student know what areas in a given subject they need to review.
Overall, the Amplify Tablet seems like a great tool for students and teachers alike. However, there's one significant obstacle that might make schools think twice before implementing the device in their educational programs, namely its price. Each Amplify Tablet will cost schools $300 apiece and the cost goes $50 higher if LTE connectivity is required. And that's for the hardware part only. Amplify will charge $99 per year for a subscription and will require a 2-year agreement to be signed. Whether the expense is worth it will be up to each and every school to decide.