Android notebooks are coming soon, to cost as low as $200
36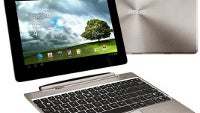 Android notebooks are coming up soon
and they will push the envelope in notebook pricing down to as low as $200, according to Dadi Perlmutter, Intel executive VP and chief product officer.
Intel chief executive just last week said that touchscreen computers could launch in the coming months for prices of around $200.
While it was not clear what kind of software those machine would run on, it is now confirmed that the majority will be Android devices running on an Intel Atom silicon. As to Windows 8 notebooks at those price points, their arrival depends a lot on Microsoft's decisions.
"We have a good technology that enables a very cost-effective price point,"
Perlmutter said. Windows 8 laptop pricing
"depends on how Microsoft prices Windows 8. It may be a slightly higher price point."

Intel expects convertible tablet/notebook form factors to pick up quickly in the near future and the PC market in general to accelerate in the second half of the year.
Intel also said it is ready to ship multimode LTE-packing processors by mid-year, and this is a type of chips Qualcomm for instance has offered long ago, which granted it head space in the mobile space. In 2014 Intel will bring a mobile chip with LTE integrated with the application processor.
source:
CNET