Android made up 86% of Q4 smartphone shipments in China, iOS was 12%
14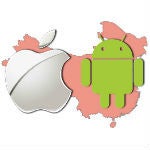 China is a huge smartphone market and growing at quite a rapid clip, but more amazing than the size of the market in China is the relative lack of mobile platform competition in the region. New data from Strategy Analytics says that 86% of smartphone shipments in Q4 2012 were Android devices, and a mere 12% were iOS. And just in case you don't want to bother with the math, that means only 2% of all smartphone shipments in Q4 in China
were not
either Android or iOS.
To be fair though, because this is China, a large number of the Android devices are non-Google Androids (NGAs), meaning that they don't come with Google Apps (Gmail, Maps, Calendar, Talk, etc) or the Google Play Store. Because they are Android forks, they share the same open source bottom layer that you'd find on any Android device, but instead of a Google top layer, users get a forked experience like you'd find on Amazon's Kindle Fire, or Barnes & Noble's Nook. Depending on how you like to count Android installs that may mean something, or it may not. We're
a bit torn on the subject
, because Google's layer does add quite a lot to Android, but even without Google, Android has quite a lot to offer.
Overall, mainland China saw smartphone shipments grow 64% year-over-year to reach 53 million units in Q4. Given the overwhelmingly large chunk of that taken up by Android and iOS, it doesn't give a lot of hope to competing platforms like BlackBerry, Windows Phone, or Sailfish, which Jolla specifically said would be
targeted to China
.