Android is the "best perceived brand" in the U.S. LGBT community according to BrandIndex
67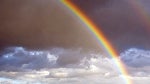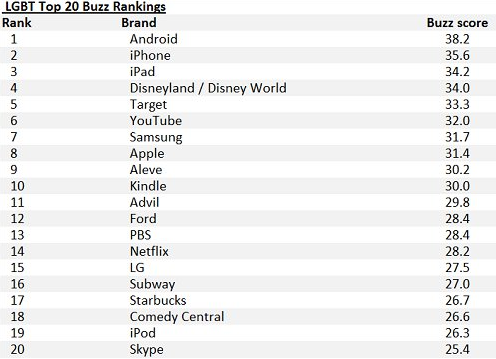 The top twenty brands as measured by the BrandsIndex for the LGMT community
You Gov's BrandIndex starts a brand name with a score of zero and subtracts negative feedback from positive to come up with its ranking. On Tuesday, the BrandIndex scores showed the top twenty perceived brands in the U.S. LGBT community, and right on the top at number one is
none other than Android
. The green robot put up a score of 38.2 in what is being called the "buzz index". Right behind Android in second place with a score of 35.6 is the Apple iPhone. In third place with a "buzz index" of 34.2 is the Apple iPad. Those scores are separate than the Apple name which by itself finished eighth with a score of 31.4.
Other mobile related companies or brands in the top twenty include Samsung, which finished seventh with a "buzz index" of 31.7, tenth place Kindle with a score of 30, number fifteen LG which scored 27.5, the nineteenth place Apple iPod and the twentieth place Skype which came in at 26.3 and 25.4 respectively. Some other names in the list that do have some mobile presence include YouTube (#6) and Netflix (#14).
Twelve new names joined the top twenty this year and among the brands that fell off this year's list were Google and Amazon. On the other hand,
Android and Kindle
, brand names for software and hardware produced by Google and Amazon respectively, made it to the top twenty. YouGov interviews 5,000 U.S. citizens daily to get their opinion on brands. Those participating in the LGBT survey identified themselves as belonging to that community.
source:
YouGov
via
AndroidCentral