"Android is ahead of the iPhone now," says Google's Eric Schmidt
90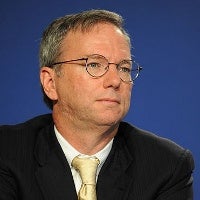 In the battle for the
smartphone king
currently there are only two big players - Android and the iPhone with iOS, but it was hard for Google's Executive Chairman Eric Schmidt to announce one of the two a clear winner of the race.
Schmidt, however, who went on stage today at the LeWeb conference, did say that
"Android is ahead of the iPhone now."
Speaking in front of a techie audience reportedly mostly equipped with Apple gear, that statement was greeted mostly with silence. The Google chairman explained what was his basis for such a conclusion with the following words:
"Unit volume, Ice Cream Sandwich, the price is lower, there are more vendors."
The platform however is still struggling to
win the hearts of developers
. Many apps are still iOS-only, while others get their Android versions updated later than the iOS ones and only a fraction of the apps are made exclusively for the platform. With Ice Cream Sandwich, Schmidt expects that this will change soon:
"My prediction is that six months from now you'll say the opposite,"
he said.
Interestingly, Schmidt also shared how Google has looked at the platform in the past and what has changed now. Initially, it seems that the mobile platform was seen as one similar to computers, while only later the company realized how important the stress on mobile is.
"We started off thinking phones were computers. We forgot that they were about communication,"
Schmidt concluded.
Is Android really ahead of iOS? What do you think and why?