Android handset used as remote control for Lego Mindstorm
This article contains unofficial information.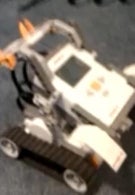 An Android smartphone has been used as a remote control for a robot before. Of course, it was a $3,000 Japanese PLEN robot with a price tag that puts it out of reach for Mr. and Mrs John Doe. But if remote control is your thing, the more easily affordable LEGO Mindstorm kit can be turned into a robot that will take orders from an Android handset. The Enea Android team took advantage of the integrated Bluetooth technology in the Mindstorm to allow an HTC Hero to be a remote control for the robot.
Movement is signaled by tilting the handset and the user can switch back and forth between different robots to control. The actual set-up is a bit convoluted because the Android 1,5 OS in the Hero doesn't support the Bluetoth serial profile. Instead, the Hero is linked by Wi-Fi to a nearby laptop uses its Bluetooth connectivity to link to the robot. Android
2.1
will support the Bluetooth's serial profile, so a Nexus One should be able to make a direct link without the laptop.
HTC Hero CDMA Specifications
|
Review
source:
ENEA
via
AndroidCommunity