Android exec hints about Android N name being Nutella, or is he?
16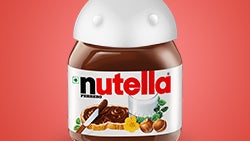 Last month, Google began
crowdsourcing ideas for the name of the upcoming Android N
. Many chimed in with suggestions but submissions were closed on June 9 and it was never a democratic vote to begin with. Google intended to have the last say in the matter and rightfully so.
An Indian dessert called neyyappam cut the list as one of the top favorites, along with nougat and Nutella. Although the Indian tongue-twister garnered a lot of support, it was unlikely that Google would go with the name for the next major iteration of Android. Meanwhile, senior vice president of Android Hiroshi Lockheimer has been tweeting some interesting stuff.
Mr. Lockheimer either has an unhealthy obsession with Nutella, or he's dropping hints about what Android N might be named after. Or, of course, he might just be trolling us hard. Either way, here are some of his interesting tweets about the Italian sweet:
There's one specific dish on this menu that I'm keenly interested in. pic.twitter.com/3y5oj9c40x

— Hiroshi Lockheimer (@lockheimer) June 6, 2016
And in this next post, Mr. Lockheimer claims that he was just googling Nutella, because he is oh-so-fond of it:
Just testing some stuff out... pic.twitter.com/6KPTEgXl9K

— Hiroshi Lockheimer (@lockheimer) June 15, 2016
In this tweet from February, he talks both about nougat and Nutella, again expressing affection toward the latter, though not regarding its taste qualities:
I had to look up how to spell nougat. But I do know how to spell Nutella. https://t.co/XM3i9idhea

— Hiroshi Lockheimer (@lockheimer) February 22, 2016
Whether Hiroshi Lockheimer is trolling or dropping us clues as to what Android N will be named after remains to be seen. Red herrings before major Android releases are nothing new.
via:
The Verge