Android developer program launched by Kyocera for the dual-screen Echo
6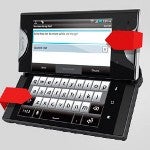 As we
reported
, Sprint is expected to launch the Kyocera Echo on April 17th. With a dual-screen design, developers have a chance to build some unique apps to take advantage of both screens. To that end, Kyocera has started an Android developer program, according to Business Wire. The program includes a full SDK and special tools to allow developers to use the Echo's dual-screen to enhance the features of some apps. The program just got off the blocks at CTIA.
If you are interested in writing an app for the Echo, simply head over to the
Kyocera Android Development page
. According to the site, certain developers will be able to receive a loaner unit of the Echo to help develop applications for the handset. The manufacturer says it has already signed up some big names for its Android developer program.
The web site also shows 4 different modes for the Kyocera Echo. There is the
Single-Screen Mode
which functions like a single-display smartphone. The
Simul-Task Mode
allows 2 of the phone's 7 apps to run at the same time, independently, on each of the device's two screens. The
Optimized Mode
lets a single optimized app run on the dual-screens with compatible features designed specifically for each display. Finally, with the
Tablet Mode
, one app uses the entire 4.7 inch viewing area of the two screens put together.
While the initial response for the Kyocera Echo was just lukewarm when the phone was introduced, it is something different that might yet find a niche in the rapidly expanding market of Android models.
source:
Kyocera
via
AndroidGuys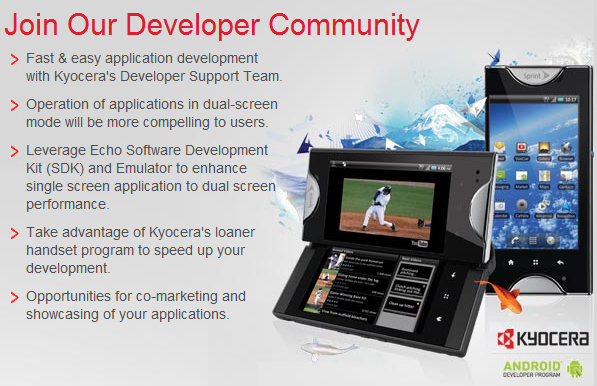 Kyocera is seeking developers interested in writing apps for the dual-screen Kyocera Echo