Android beats out iPhone in 8 States
This article contains unofficial information.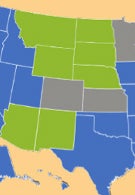 Myxer is an entertainment company in the business of providing downloads to mobile phones. You know, things like wallpaper, ringtones, videos, etc. They have delivered more than 1 billion such downloads and with 350,000 registered Android users, they decided to get into the metrics business. In their report for January, Myxer has found something very interesting. While it is usually the big, flashy cities like New York and San Francisco where you would expect to find the vanguard of technological change, it seems to be middle America that is embracing Android first. 7 states in America's heartland-Arizona, Nebraska, New Mexico, Montana, North and South Dakota, and Wyoming-have seen Android usage outnumber that of the iPhone. Maryland is the only East coast state that can claim the same thing. Some are saying that the reason for the results is that in some of the Mid-West states, Verizon is the only carrier with broad 3G coverage. But it could be that in the U.S., change starts in the middle of the country and spreads out to the coasts.
Other interesting things discovered by Myxer is that 3 out of every 4 Nexus One users is Male. On the opposite end of the spectrum, 2 out of every 3 users of the Samsung Behold II and the HTC myTouch are Female. Across every Android handset, more Women than Men downloaded mobile entertainment. The G1 seems to be the handset with the youngest demographics. 57% of downloads for that device fall into the 18-24 age group. Finally, users of the DROID are the least active, consuming an average of just 4 pieces of mobile entertainment per month.
Motorola DROID Specifications
|
Review
HTC Nexus One Specifications
|
Review
Samsung Behold II Specifications
|
Review
T-Mobile myTouch 3G Specifications
|
Review
source:
Myxer