Android apps to get you in the Christmas mood
5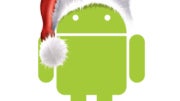 So, this is Christmas! Family, celebration, love, peace, joy, presents, apps...
"Wait a minute... apps?! Since when are apps on the list of the cool things that you can do on Christmas?"
That's what tech-impaired Rudolph would probably say, if he was reading PhoneArena, but we know that there's much Christmas joy to be found within the vast Android Market. Does it seem like everyone around you is filled with that magical Christmas spirit, and you're the only one who somehow can't feel it yet? Don't worry, our friend, it's all part of the game. Luckily though, we discovered a very quick and efficient way of getting you into the right mood for Christmas. OK, green robot, put your Christmas hat on and lead the way to those APKs!