Android app allows Hit and Run victim to capture accident on his phone
9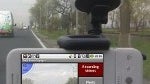 DailyRoads Voyager is a free app in the Android Market that turns your phone into a little black box for your car. Strategically placed on the dashboard, your phone will continuously record your journey while you drive. While everything is recorded, you decide which part of your trip is kept on your phone by tapping the screen-even while you drive. Images are also retained when the app feels the sudden shock caused by the impact of an accident.
And that brings us to the victim of a minor hit and run accident. Nic Bender might have been called obsessive for placing his Motorola DROID into a dashboard mounted holder everytime he got into his car. But just the other day, Bender's car was clipped on the passenger side by another vehicle whose driver just kept on going. Thanks to DailyRoads Voyager, Bender was able to pass along a video of the accident to the police who are still looking for the driver of the other car. While the "perp" has yet to be found, the cops are being aided in their investigation by Bender's video.
DailyRoads Voyager will work on Android models running 1.5 or higher which covers just about every unit in use today. And while your phone is recording every second of your trip every time you get in the car, the app also will keep you from texting while driving which alone is worth installing the app for.
source:
WBIR
via
Phandroid
Recommended Stories