Android app 'Analyst' uncovers everything your apps are accessing
10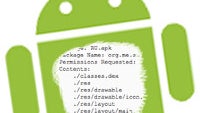 Let's admit it - we install a ton of applications on our devices and we rarely ever know what are they accessing. With the recent NSA surveillance scandal bringing up serious issues over customer privacy and security, maybe it's time to take another look at the permissions that we have given to our apps.
That however is not a trivial task for the average user and it could be challenging even for power users. You have to go through documentation and read all about permissions.
Now there is an easy way with a new
Android application called 'Analyst'
that shows you all the apps you have installed on your device and
neatly explains what each of the permissions granted for it means
. The app itself is free and has just gone live on Google Play, take a look at it right below.
You don't have to be an expert to see that some VoIP apps like Skype and Viber are not as perfectly secure as you might have thought and actually they have full access to read and write your contact book! What should you do? Why not check our
10 essential Android apps that keep your calls, messages, emails and browser history secure
.
Recommended Stories