U.S. Consumer loyalty to mobile operating systems is at the highest levels ever
40
According to a release issued today by Consumer Intelligence Research Partners, LLC (CIRP), consumer loyalty to mobile operating systems is at its highest levels ever. Loyalty to Android is measured by CIRP at 92%, while iOS loyalty weighed in at 89%. This figure is the percentage of Android or iOS users that remained with each operating system when activating a new phone over the 12 months that ended in September.
According to CIRP partner and co-founder Mike Levin, for the last three years U.S. smartphone buyers have stayed with the same OS when buying a new phone. Another co-partner, Josh Lowitz, said that predictions from other analysts that Android users are going to start switching to iOS aren't borne out when looking at the long term trend. Lowitz notes that those other analysts are making predictions while CIRP's numbers are based on what actually took place.
In the past two years we've seen loyalty rates of iOS and Android begin to converge. While the data indicates Android has a slightly higher loyalty rate, iOS has narrowed what was a small gap to begin with, to the point that both enjoy approximately the same, very high loyalty."-Josh Lowitz, partner, co-founder, CIRP
CIRP obtained this data by conducting quarterly surveys from June 2015-September 2018. There were 500 respondents in each survey.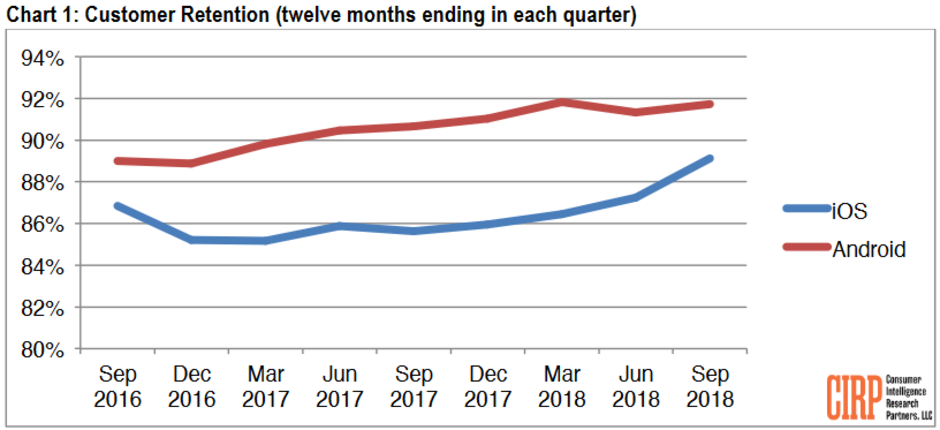 Smartphone owners are more loyal now to their OS than ever before