Android Wear 2.0 starts rolling out... to three of the least popular smartwatches out there
7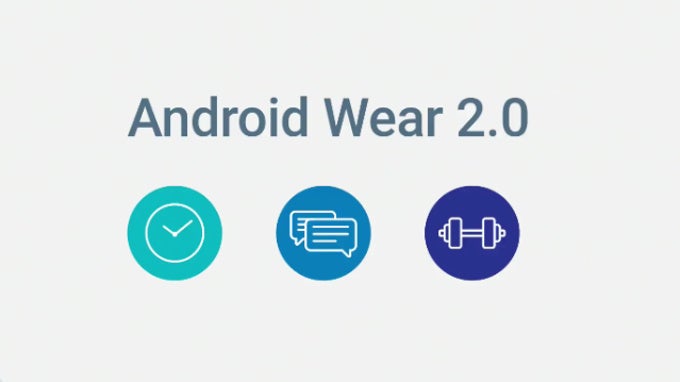 After months of waiting, Android Wear 2.0, the biggest update to Google's wearable platform, has finally started rolling out... to threee of the least popular smartwatches out there.
Google is pushing the Android Wear 2.0 update to the gigantic, 46mm Fossil Q Founder, the rugged Casio Smart Outdoor Watch and the ridiculously expensive, $2,000+ luxury Tag Heuer Connected. Yep, no mention of the more popular Huawei Watch or LG Watch Urbane.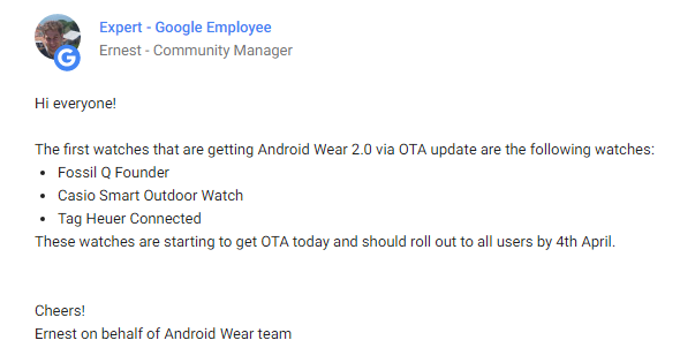 Ernest, a Google Community Manager breaks the news about the update in a low key tone
The update is rolling out today and is set to roll out to all the three supported smartwatches by April 4th.
The list of devices that are waiting for the update remains huge:
ASUS ZenWatch 2
ASUS ZenWatch 3
Casio Smart Outdoor Watch
Casio PRO TREK Smart
Fossil Q Founder
Fossil Q Marshal
Fossil Q Wander
Huawei Watch
LG G Watch R
LG Watch Urbane
LG Watch Urbane 2nd Edition LTE
Michael Kors Access Smartwatches (Dylan and Bradshaw)
Moto 360 2nd Gen
Moto 360 for Women
Moto 360 Sport
New Balance RunIQ
Nixon Mission
Polar M600
Tag Heuer Connected
We don't know the Android Wear 2.0 update roll out times for these devices, but we can hope they will be sooner than later.
Android Wear 2.0 brings improvements to three key areas of your smartwatch: the watchface, messaging and fitness. The changes to the way watchfaces works: now, any watchface can show data from any app, so you can mix and match styles with the information you need. With Wear 2.0, you can also type on your watch with handwriting recognition and finally, Wear 2.0 devices will now feature Google Fit automatic activity recognition, so apps like Strava can start tracking your run as soon as you start running, without requiring you to manually turn the tracking on.