Android TV goes official with Netflix on board and multiplayer gaming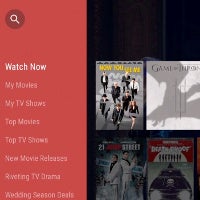 Google has just unveiled Android TV, a new platform that will run on streaming boxes (much like the Apple TV) or that can be integrated in TV sets.
It will be richer in functionality than the Apple TV, though, as it will support not just video and music streaming, but will also support full-on phone mirroring and run games on the TV (plus, it will also support multiplayer). Moreover, you will be able to control your Android TV not just via a smartphone or a tablet, but also with your smartphone. Let's look at what it's all about.
Video
Android TV is a lot about entertainment and good news is that Google has got its content in place: Netflix, TED, and others have signed up and will be available on it from the get-go.
Android TV Apps
Apart from just video, you'll have a selection of tailor-made Android TV apps. Those apps have their specific design with a separate bright navigation screen on the left side.
Photos via Backdrop
"Grandparents everywhere are going to love this feature," Google joked about photos on TV.
Android TV will also be able to easily show all the camera roll pictures from your phone on your big TV screen.
Not just that - you'd be able to have art, satellite photos, and so on as a photo frame, basically making your TV the biggest picture frame in your house.
Google Play Games
The killer feature of Android TV, however, is its support for Android games. You can even hook up a game controller and various other devices (tablets included, of course) to play in multiplayer against a friend. Android TV has full Google Cast support, so you can cast music easily and directly to a TV, and if a friend comes over, it's also easy to stream tunes from his devices to Android TV.
Release date and partners
Along with Android TV, we will see the Google Play TV Store open doors this fall, packed with tailor-made apps. That's when we guess we'd see the first Android TV streaming boxes, and Google confirmed that multiple companies will make those, Asus and Razer being just two.
Moreover, Google has won Sony, Sharp, TP Vision and Philips on its side, and all will support Android TV in their new TV ranges. Overall, this seems like a pretty comprehensive overhaul of the previous Google TV. How do you like what you see?