Android Pay UK launch feels all sorts of imminent
8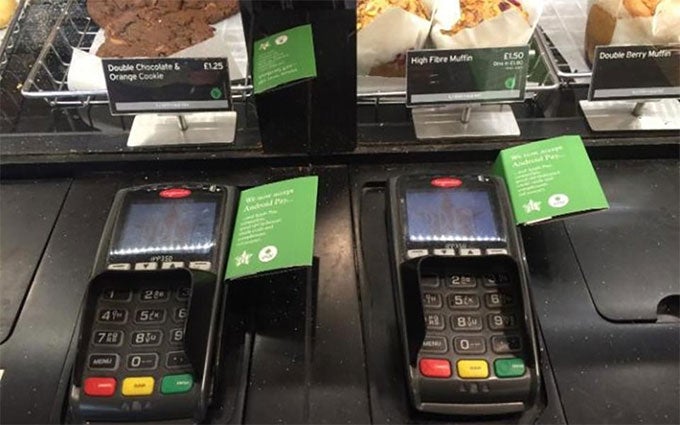 Earlier this year, we
took a look at the three big mobile payment systems available on smartphones
: Apple Pay, Samsung Pay, and Android Pay. Each had its own benefits and weaknesses, but if you fancied yourself quite the international traveler, one stood out as a bit more limited than the rest. Not only did Apple Pay and Samsung Pay support payments in more nations than the US-only Android Pay, we knew a lot more about plans for their expansion into further markets still. Would Google's sluggish efforts to bring Android Pay to users in new nations end up hurting its growth? Well, progress is finally being made, and in addition to Australia gearing up to accept Android Pay in the months to come, new evidence suggests that the service's eagerly awaited UK launch could nearly be here.
One London branch of UK food retailer Pret A Manger was just spotted outfitting its payment terminals (above) with marketing signs advertising that Android Pay is now accepted. Of course, that's not the case
just
yet, and this feels like a matter of someone jumping the gun and putting those signs out early.
The fact that those signs exist, though, and have already been distributed to stores, sure seems to imply that UK Android Pay availability is just about to get underway.
And with
Google I/O opening its doors next week
, it doesn't take Nostradamus to guess that we might get a formal announcement of Android Pay's international spread at some point during the conference itself.
Check back with us next week for word of all the news to emerge from Google I/O, running May 18-20.
source:
Pocket-lint
Recommended Stories