Latest Android P Beta introduces support for redhead and gender-neutral emojis
10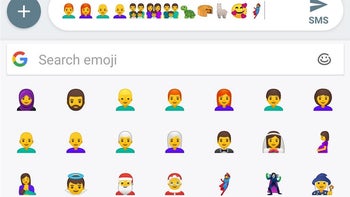 After yesterday's announcement of the
second Android P beta release
, it turns out that Google quietly included a pretty big number of new emojis in the update, 157 new ones to be precise – Yes, you read that right, 1-5-7.
Before going into detail, it's worth noting that these aren't necessarily new as they were originally announced back in February as part of Unicode 11. Nevertheless, the latest Android P Beta release does mark the first time
Google
has supported the new set, with perhaps the biggest additions being support for certain gender-neutral options. As part of this new update, if a gender isn't expressly specified, the OS will default to displaying gender-inclusive options. This means that when searching for emoji users will now have to keep an eye out for the gender-neutral option, with gender-specific offerings, as well as different skin tones, being available in the sub-menu. However, despite the support, it's worth noting that this new feature is currently limited to the couple and family emojis. On a separate note, after years of requests, the latest Android beta now offers support for redheads, allowing users to combine the new hair color with different genders and skin tones. Additionally, while on the topic of hair, new offerings with curly or white hair are also available, as well as certain bald ones.

Moving on to the slightly more fun side of the list, the latest Unicode 11 support means the introduction of various extra emoji faces such as one with a birthday hat or an exploding head. Also, a lying face emoji with an extremely long nose is included within the pack alongside a drooling face option. In addition to this, various emojis have also seen small tweaks, such as the salad that now includes no egg, the cricket emoji that is now actually a cricket instead of a grasshopper, and even the dagger that has gained some sparkles.
The list of new
emojis
does go on but, in the long term, the ones that will most likely make the biggest impact are the two new gender-neutral offerings. After all, not only are they a step in the right direction towards total inclusivity, but they will most likely pave the way for a whole range new of gender ambiguous emojis.