Android M, the rumored Galaxy Note 5 specs, and the latest OnePlus Two rumors: Weekly news round-up
9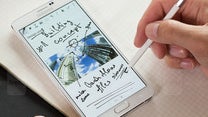 Once again, it is time for our weekly news round-up, where we put the most interesting stories from the past seven days for anyone who needs to catch up.
One of last week's top news shed some light on Android's roadmap. We can now rest assured that the platform's next major release is to be previewed at the Google I/O conference, which will take place in San Francisco on May 28 and 29. While details are still a bit unclear, we're expecting the so-called Android M to bring new proximity-based communication features, enhanced voice commands, improved Material Design, and more.
And now, a few words about the Samsung Galaxy Note 5. No, the fifth-generation Galaxy Note phablet has not been announced yet, but latest rumors suggest that it's coming in September with a pixel-packed screen and cutting-edge hardware under its hood. Also, it is likely to see a circular smartwatch by Samsung on the day of the Note 5's announcement.
In other news, the founder and CEO of OnePlus, Pete Lau, has been discussing the company's upcoming flagship with fans on Chinese social media. The phone, presumably to be called OnePlus Two, will be relatively affordable for what it will have to offer specs-wise.
For more of last week's most attention-grabbing stories, take a wander through the slideshow below!