Android Jelly Bean is coming: cast your wish for new features here
22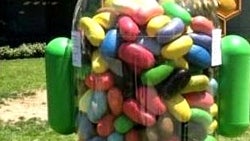 Google's I/O 2012 is mere hours away from its start and to get warmed up Android folks have already put up a Jelly Bean statue at Googleplex, confirming that the new version of the most prolific operating system is getting its next big update soon. Along with it comes a brand new tablet that will allegedly showcase all of the benefits of Jelly Bean.
But what does Android really need in JB? It's already one of the most advanced - if not the most advanced - mobile operating systems with full-blown multi-tasking, customization with support for widgets and basically everything you can think of. What does it miss? And what would you like to see most in the upcoming Android update?
We actually think that Jelly Bean is more likely to be an incremental update for the platform, further refining the experience, much like Gingerbread refined the Froyo experience. Below are some of the features we hope Google will announce. Pick your wish and check back in with us in a few hours for full coverage of the Google I/O.
If you have some other wishes and hopes for Jelly Bean, share them in the comments below!