Android 7.0 update for the German Moto Z Play is delayed until next month
3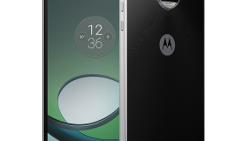 Motorola Germany's official Twitter account is delivering some bad news today to owners of the unlocked
Moto Z Play
in that country. The update to Android 7.0 that was expected to hit the phone by the end of January, is now scheduled for March. And the Moto Z Play isn't the only Moto handset in Germany that is affected by a Nougat delay. The Moto G4 family made up of the
Moto G4
,
Moto G4 Plus
and
Moto G4 Play
were also supposed to receive the tasty Nougat update at the end of last month. But this never happened.
With the delay, German owners of the Moto G4, Moto G4 Plus and Moto G4 Play will probably receive the Android 7.0 update in mid or late February. The update includes the enhanced version of Doze, which shuts down apps running in the background of an inactive phone. This allows standby time to increase. Unicode 9.0 brings the latest emoji with Nougat 7.0, and multi-tasking multi-screen allows two apps to be viewed at the same time, side-by-side. With the update, all of a user's open apps can be closed in the blink of an eye using the "Close All" feature.
Motorola Germany didn't give a reason for the delay. We'd love to hear the explanation considering that the Moto Z Play was updated to Nougat last week in Portugal. And the Moto G4 and Moto G4 Plus have both received Android 7.0 in many other regions of the world.
Hopefully, the time will go by quickly for Moto Z Play and Moto G owners in Germany. And before they know it, their handsets will be rockin' Android 7.0.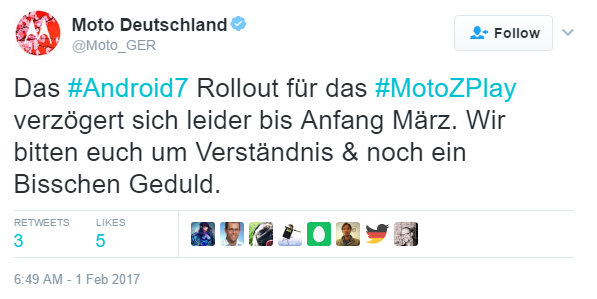 Android 7.0 updates are delayed in Germany for the Moto Z Play
source:
@Moto_GER
via
The AndroidSoul