Android 6.0.1 Marshmallow roll-out brings 200+ emoji to Nexus devices
14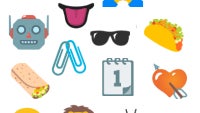 Love or loathe emoji characters, they're an inescapable symbol of our times. From the traditional smiley face to the middle finger, there's no shortage of selection. Nothing says
"I can't be bothered to proceed with this conversation"
quite as politely as the thumbs-up emoji, while the many different shades of heart are often utilized to express affection. Still, there's always room for a few more, and with Android 6.0.1 Marshmallow on its way out to Nexus smartphones and tablets, owners of updated devices will be furnished with some 200 additional emoji.
From the much-devoured taco to the mystical unicorn, a deluge of new emoji will soon grace Nexus devices far and wide. Those who've interacted with an iPhone or iPad in recent times will probably be familiar with many of the new arrivals, since Apple's mobile software
beat Android to the draw
a couple of months back with the introduction of iOS 9.1.
Aside from the emoji support, there are one or two minor adjustments to mull over with Android 6.0.1. Notably, it's the official Android security update for the month of December, so should offer a few out-of-sight tweaks to keep the ship running tightly.
As for features that
can
be seen, Android 6.0.1 makes a small change to the navigation bar on tablets. The 'back' and 'home' buttons are situated on the left-hand side, with 'overview' stuck on the right, in a move that seemingly makes it easier to access these buttons with thumbs.
The Do Not Disturb feature is the other notable aspect to receive attention, with a return for the 'until next alarm' feature that first appeared with Android 5.1.