Android 6.0 Marshmallow update reaches more LG G4 owners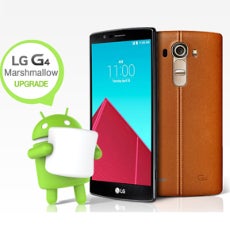 Many a disgruntled
LG G4
owner has waited patiently for the Android 6.0 Marshmallow update to appear, to no avail in many cases. The roll-out has been a rather stuttered affair thus far, and despite the impending nature of
the G5
, many owners of LG's
current
flagship have been left sitting on their hands. After starting out in
Poland
, trickling through LG's native
South Korea
before hitting
parts of Europe
,
Sprint's LG G4 got a taste of Marshmallow in late December.
As of today, a number of Canadian carriers are getting in on the act as the protracted software update forms another chapter.
Today, Telus users will begin to see the OTA notification, while Rogers will partake from this coming Wednesday, February 3. Bell shouldn't be too far behind, though since the carrier doesn't provide a schedule for its customers to follow, there's no telling exactly when its G4 Marshmallow update will grace users with its presence.
As you're probably aware, Android 6.0 Marshmallow offers a number of useful tweaks. There's improved battery management courtesy of Doze, which places your phone into a deep sleep and thus allows you to dredge every last droplet of juice. There's also contextual search functionality through Google Now on Tap -- a smarter edition of the virtual assistant that will post search results related to what's being viewed on the display at the time.
Has your G4 seen Marshmallow yet? Be sure to let us know how you're getting on via the comments.