Android 5.1 Lollipop might be coming in March, HTC's Mo Versi implies
4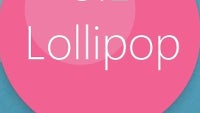 Despite it's already been caught in the wild,
powering many a member of the Android One program
, Android 5.1 Lollipop is still not entirely official - Google has neither spilled the beans of what it will change, nor any official factory images have been released. This doesn't mean that Android 5.1 is not happening.
On the contrary, it should pop up (officially!) quite soon. Mo Versi, HTC's Vice President of Product Management, spilled the beans and claimed that Android fans should expect the next iteration of Lollipop in March. He spilled the beans when asked if HTC will eventually fix a bug marring the user experience on the already-updated HTC One (M7), Versi revealed that the issue will be dealt with in
"Google's next MR, which is in March"
.
What this also means is that HTC's flagship devices will likely get updated with the next version of Lollipop in quite a timely manner. Of course, we should not entirely rule out that Versi is talking about a small bug-fixing Android release and not Android 5.1, but given the amount of leaks about Android 5.1, we are inclined to believe that the latter will be making the rounds sometime next month.
Among the goodies that Android 5.1 is rumored to bring to the table are the coveted return of the silent mode, improved RAM management, bug fixes for sudden app force-closings, improved battery management, and many other pretty substantial issue-solving changes that will fix what Lollipop initially broke.