Android 5.0 Lollipop comes with an Ambient Display setting – similar to Moto X's Active Display
17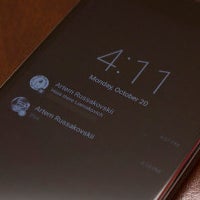 So, Android 5.0 has about a week or two left in the pipeline, however, naturally at this stage before release,
system dumps of the Lollipop
have started
popping up
left and right, each more "complete" than the last, allowing enthusiasts to flash the new OS on their Nexus devices before Google releases it officially.
One such leak (leakster of which claims it to be a full Lollipop build, but we won't dabble into that) has shown a new feature in the phone's display settings – a so-called "Ambient Display". What this does is – each time the phone receives a new notification, the display will light up for a few seconds, showing a preview of whatever the message is, allowing the user to react appropriately. This is a stock feature on some Android skins from different manufacturers, and has been on iOS for quite a while, however, it's new to vanilla (Google) Android. Additionally, the Ambient Display setting will also light up the screen when you pick the device up – much like Moto X's Active Display does.
Of course, such a feature will drain a bit more battery, which is probably the main reason why Google took so much time to implement it (Lollipop comes with
Project Volta
, after all, which should offset any additional battery drainages). According to Google Play's page for the Nexus 6, a single battery charge will keep the device on standby for up to 330 hours when Ambient Display is
off
, whereas it will take 250 standby hours for the same phone to drain its juicebox with Ambient Display set to
on
. That's around 20% standby time lost to this feature, which may or may not be that bad, depending on the Nexus 6's real-life battery drainage results.
via:
Android Police