Google's Android L Project Volta boosts battery life by more than 30% on one and the same Nexus 5
28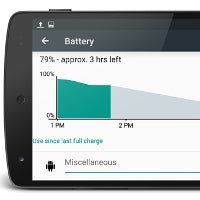 One and the same worn out
Google Nexus 5
handset, loaded with the new
Android L Preview
, and Android 4.4 KitKat, showed a significant gain in battery life in standardized, controlled testing. The Nexus 5 with Android KitKat has been charged up to the max, and a standard web browsing test run with the screen set at 200 nits of brightness. The Nexus 5 lasted 6 hours and 45 minutes before it died completely. Afterwards, the Android L Developer Preview version was loaded on the handset, and the same test run again at 200 nits. Surprise, surprise, the same Nexus 5 lasted almost 8 hours in the same conditions. This comes to show that
Google's new Project Volta
that comes with Android L, and is aimed to optimize battery consumption, works as advertised, and the folks from Mountain View are even conservative in saying that it boosts battery life with 15-20%, compared to previous versions of Android.
Project Volta consists of many moving parts, like the Battery Historian, or the JobScheduler API, many of which are on the developer side of things. End users also get visible perks, though, like the Battery Saver mode that can be enabled from the settings, or kicks in automatically when the battery reaches 15% charge. The results of this impromptu test with the Nexus 5 are nothing short of breathtaking, though, and, given that
H1 flagships already last about 30% longer than the 2013 crop
, another such boost will finally bring the situation with smartphone battery life on the bearable side.